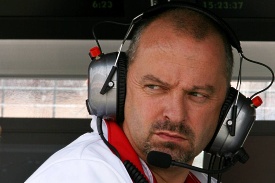 Lotus's Chief Technical Officer Mike Gascoyne says his team is not shying away from the pressure of bringing the legendary name back into Formula 1. Lotus will be one of four new teams in the 2010 season, as the historic brand returns to Formula 1 for the first time since the 1994 season.
Gascoyne admits it is inevitable to feel pressure carrying the Lotus name. "You can't bring the Lotus name back into F1 without pressure – from Group Lotus and all the fans," Gascoyne told the official Formula 1 website. "And that's how it should be – we don't shy away from it.
And on a personal level, as a guy who grew up just down the road and went to school a few miles from the Lotus factory, to be bringing the name back is something that has a very personal feel for me."As Formula 1 is changing and becoming less of a spending competition, hopefully now it's more about innovative engineering.
And that's what (original Lotus founder) Colin Chapman's philosophy always was, so if we can bring some success that would be a fantastic result."How quickly can we become competitive? A small, efficient operation has to look at doing so in three to five years, and that's our aim."The Briton says the challenge of building a team from scratch is daunting, but claims there are clear benefits to it."I think after my last two jobs it became pretty clear that no one wanted to employ me, so I thought I'd better set up my own team," he said. "This is obviously a unique challenge, because it's setting up a whole team from scratch, not just the car, and it's a team that has the Lotus name. It's a daunting task, but the advantages are clear."We haven't got any baggage to deal with and we can set the team up to operate in a lean and efficient manner.
On the Lotus side, as a Norfolk boy who grew up in the area and went to school around here, to bring back the Lotus name is a fantastic opportunity. "Gascoyne, who left the Toyota team in 2006, said he was delighted by the interest he has attracted with the team, despite his reputation as a controversial leader. "I don't think I have a confrontational approach, but I am very straightforward and I say what I believe.
At Toyota, the direction I wanted it to go technically wasn't where the management wanted, and that's fine, it's their choice, so we went our separate ways." You could say the consequences of their decisions weren't necessarily that great. One of the great things here is the number of people coming on board who want to work with me. "At Jordan, Renault and even Toyota I built some very strong teams. And that was resented at Toyota because the management didn't see that as the way to go, and it's nice that a lot of those people are coming over to Norfolk now."
Want Lotus news updates in your inbox? (It's Free)
Leave your comment below...