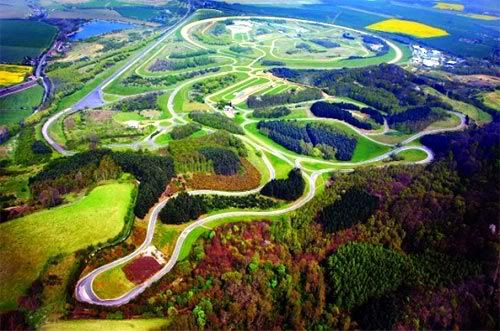 The Lotus Forums attended a driving training day with advertiser
CAT Driver Training
on Saturday 30th August at
Millbrook Proving Ground
in Bedfordshire.
3 Esprits, 2 Elise's, an Exige, a 2-Eleven  and a diesel Mini (!) attended the day and each driver had around 90 minutes of 1on1 time with a personal instructor  plus theory and tutition.
The day started at 8.30 with a briefing from Colin Hoad, who runs CAT Driver Training along with his wife Jo, explaining the days activities while each of the participants' cars were checked over by CAT's own professional race engineer.
The 8 participants' then took part in various activities using 5 of the unique circuits at Millbrook in their own cars, the activities included:
• 'Threshold' braking from 100+ mph on the 'Mile Straight'
• High speed driving on the banked circuit of the 'High Speed Circuit'
• Driving on the demanding 'Alpine Route' loops 1 & 2 with its hills, and variety of corners from hairpins to long and sweeping
• Taking on the tight, twisty and challenging 'Handling Circuit' set up to test even the most capable of cars and experienced of drivers.
• Experiencing Understeer / Oversteer on the wide open spaces of the 'Steering Pad'.
At the end of the day, the newly found skills were put to the test in a timed 'shoot out' around a gymkhana-style course laid out on the 'Steering Pad' using CAT's own Caterham 7.
Gymkhana times were:
| | |
| --- | --- |
| Jon | 43.34 secs |
| Nik | 43.75 secs |
| Bibs | 45.28 secs |
| Chris | 46.16 secs |
| Felix | 46.62 secs |
| Ian (SW) | 46.82 secs |
| Jo | 47.94 secs |
| Ian (NE) | 48.54 secs |
Editors note: Bibs was forced by a brutal Canadian to endure the course sans 1st Gear, hence costing him 3 seconds no doubt and the world record!
About CAT Driver Training
CAT Driver Training is run by Colin and Jo Hoad. Colin used to work for a leading motor manufacturer in the UK as a Vehicle Evaluator and Driver Trainer and has gained extensive experience and qualifications in driver instruction. This includes being certificated to instruct at Millbrook and also the infamous Nurburgring in Germany. His life has been spent working with his passion: motor cars – from racing minis to the race preparation of performance cars. He has much experience of vehicles on both road and track and brings a very different approach to driver enjoyment.
CAT Driver Training can be found @ http://www.catdrivertraining.co.uk/
Please click this link to read the thoughts of Site Admin, Bibs, on the day with CAT.
Leave your comment below...